Please click
FORGOT YOUR PASSWORD?
to reset your passward to enable to log in.
The system will immediately send one email with new password in it. Notice the new password has been provided for you in the email.
The email sometimes ends up in the spam,

bulk

or

junk

mail, so please check these folders as well.

Sorry for any inconvenience caused.
13-02-2014
0
of this item is added into cart by active buyers
BIO Gold Mass, 15 lbs (27 Servings)
Product Code: bio401
Condition: New
ENHANCED MUSCLEMASS & WEIGHT GAIN FORMULA
RM 248.00
Walk-In
RM 248.00
Online


Product Description


BIO GOLD MASS is a delicious, high calorie-dense premium weight gain formula specially designed for the hard gainers. Each serving of BIO GOLD MASS contains a whooping 60g of premium quality protein from Biobolics Gold Multi Source Protein Blend. BCAA's & Glutamine are added to experience faster and better lean muscle development and making it ideal for tissue repair.


BIO GOLD MASS also features a low glycemic index carbohydrate source from Biobolics Gold Carb Blend. Two serving daily with milk provides over 2000 calories for maximum growth. BIO GOLD MASS has 1:3 Protein to Carbohydrate ratio and stimulates Muscle Fibre Hypretrophy (muscle growth), making it the most muscle enhanced weight gainer in the market.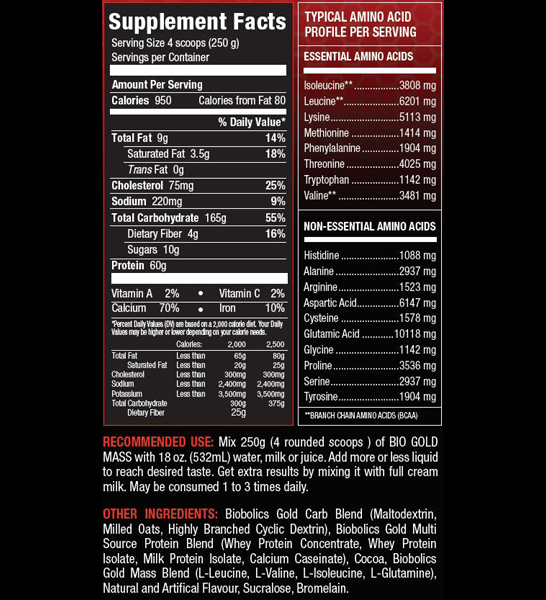 All prices are inclusive of 6% GST.